X-17
Comedy Writing:
Comedy and Humor
In Literature and Life,
Part One
Suggested Grade Level: 9th to 12th grade
Learn the styles of writing for comedy in all of its forms -- comedy in literature, sketches, standup, and more -- and through practice, hone your writing skills with this unique and critical style that allows you to powerfully connect with readers...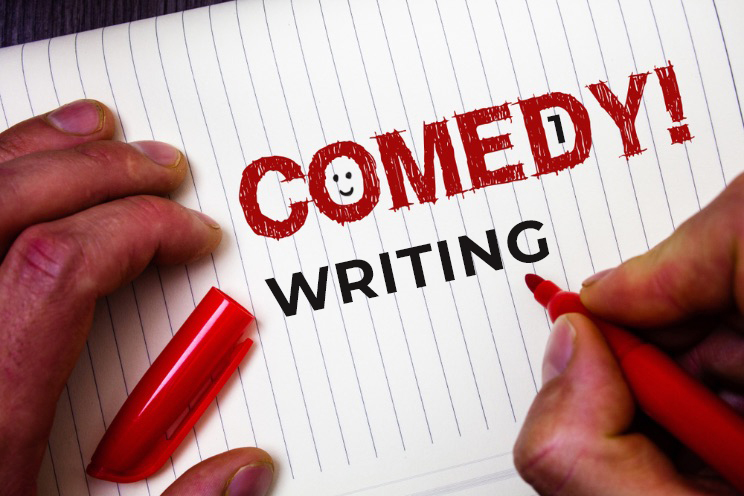 Your Course Description
Why do we enjoy comedy? Why is laughter so much fun? And how does comedy and literature relate to life in general — and your success as a writer? Through in-class learning and practical writing exercises each week, discover the joy of writing with comedy in all of its forms — including literature, short and sketch comedy, stand up, and how-to forms (satire, puns, wit, and more) that can be used in both nonfiction and fiction. If you want to expand your writing skills in an enjoyable, practical course (with English, literature, and writing credit), then this is the course for you!
Your Course Outline
Class 1: "What is Comedy?" / Your Sense of Humor as a Gift from God / What Makes Something Funny? / Comedy and Humor in Writing vs. Speaking ("Is there a Difference?")
Class 2: "Where is Comedy?" Using Comedy in Literature, Story, and Online Writing, and More; Famous American Humorists: Literary Giants, from Mark Twain to the Present
Class 3: "Short Comedy" and Comedy as Laughter: Jokes, Puns, Wit, and Wry Humor
Class 4: "What is Satire?" The Biting Edge of Comedy's Sword
Class 5: Comedy Writing in Plays, Novels, and Stories; Examples of Comedy from Famous Works
Class 6: Sketch Comedy: What it Is, How it Works, Where it's Used, and How it's Effective to Connect with an Audience
Class 7: Stand-up Comedy: What it Is, Why it's So Popular, and Stand-Up Comics as Personalities
Class 8: Comedy in Your Own Writing; Writing with Humor, Laughter and Smiles in Mind
Your Course Details
Total Number of Classes: Eight (8)
Prerequisites: WRITING ESSENTIALS 1: Essential Punctuation and Grammar I (HS 9-1) and SIMPLIFIED WRITING 1: Strong Foundational Writing Skills (HS 9-2). Take the prerequisite courses LIVE or through Unlimited Access. Students who have tested out of the prerequisite skills via the Aquinas Writing Advantage Program's Assessment are welcome to join the course
Required Materials:
1) Document Creation
All documents are turned in as Microsoft Word documents. If you do not own Microsoft Word 2007 or alater version, you can use a system such as Google Docs that converts to Word documents FREE.
Suggested Credit: One (1) full semester of Comedy Writing, Creative Writing, or English.
How this course fits with your other High School Writing Excellence courses...
* This is Part 1 of a two-part series.
** The X-17 and X-18 courses can be taken separately or together. To get the most out of both courses, create a full year of High School Writing with Parts 1 and 2 together.
One Sign Up Option
1. LIVE, INTERACTIVE COURSE
Students attend a LIVE class in a virtual classroom on a specific day, at a specific time. After class (during the week), the student independently completes the coursework and weekly quizzes; the quizzes are graded automatically by the computer for instant feedback. Your instructor gives feedback on assignments and grades student work; the instructor is available for communication outside of class via email, to help answer questions. Homework time outside of class is estimated to be one to three hours per week, depending on your student's skills.
2. UNLIMITED ACCESS RECORDED COURSE
This course will be offered in Unlimited Access recordings in the Spring of 2021.
Specific Course FAQs
Is this course required?
This course is a Writing Excellence course and is an "above and beyond" course from the FOUNDATIONS-DEVELOPMENT-ADVANCED series of 9-12th grade courses. It can also be considered a WRITING DEVELOPMENT course.
Who should take the Comedy Writing courses?
Particularly if your student wants to be in a highly-engaging, high-interest course — to get excited about writing — then this may be a perfect fit, to increase your student's writing skills with enjoyment. For those looking to combine writing, literature, and history — this is a perfect course. This course is also perfect for the student who wants to pursue any part of the creative storytelling or performance arts industry (book/novel writing, television and film writing, speech writing, and journalistic article writing).
Can I take another writing course at the same time?
Yes! Many students take two separate writing courses during a semester. In particular, the Comedy Writing courses can be taken at the same time as any of the high school Foundations courses (9-1, 9-2, 9-3, 9-4), Development courses (10-1, 10-2 and 11-Series courses), and Advanced Writing courses (12-1 and 12-2).
Is this course considered an English, Writing, or Literature Analysis course?
This course is considered an advanced English and Writing course with Literature Analysis components.